101-carat diamond sells for US$12.3M – in cryptocurrency
2021-07-13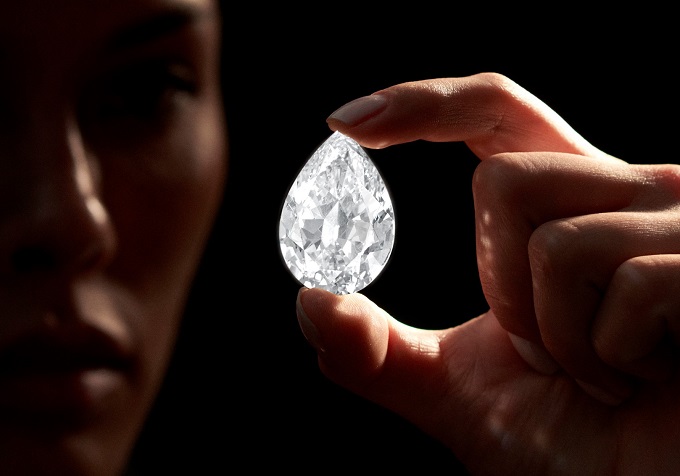 An exceptional 101.38-carat diamond, which fetched HK$95.1 million (around US$12.3 million) at auction, has become the priciest jewellery or gemstone ever purchased using cryptocurrency, according to Sotheby's Hong Kong.
The pear-shaped D-colour flawless diamond sold to an anonymous private collector in a landmark single-lot auction. The diamond, named "The Key 10138," was the second largest pear-shaped diamond to appear in the market.
"Another milestone was reached in the adoption of cryptocurrencies when Sotheby's set the highest price achieved for any jewellery or gemstone purchased with cryptocurrency," the auction house said.
According to Wenhao Yu, deputy chairman of Sotheby's Jewellery in Asia, there was active participation from collectors across the globe as well as interest from new clients beyond traditional collectors.
"By introducing this innovative payment option to our luxury sale, we open up new possibilities and expand our reach into a whole new clientele, many of whom are from the digitally savvy generation," noted Yu.
Sotheby's said only 10 diamonds of more than 100 carats have ever come to auction to date. The Key 10138 has achieved the highest gradings in both colour and clarity. It also belongs to the rare subgroup comprising less than 2 per cent of all gem diamonds, known as Type IIA. Diamonds in this group are the most chemically pure type of diamond and often have exceptional optical transparency.
The sale reinforces the market's strong appetite for white diamonds, particularly big-ticket items. Sotheby's said 80 per cent of the white diamonds offered in its Magnificent Jewels auctions this year had sold while 30 per cent of buyers in its luxury sales were new to Sotheby's.